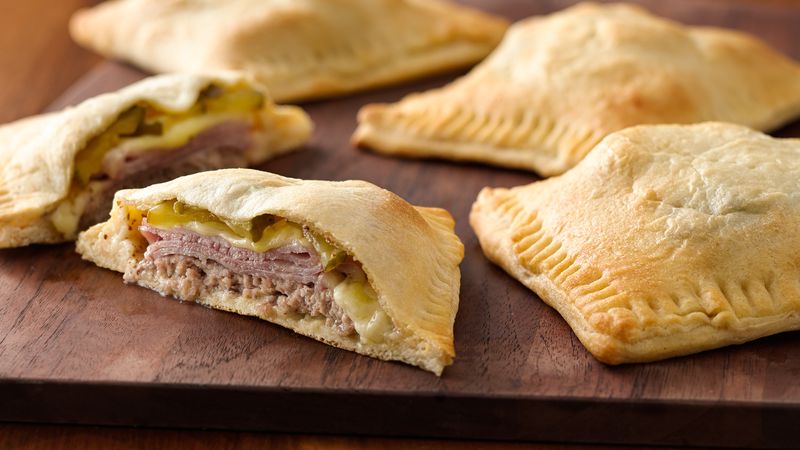 Prep 25 MIN
Total 45 MIN
Ingredients 7
Servings 6
Not your ordinary ham and cheese. Delve into these flaky crescent pockets for some seriously good eats.
Ingredients
3 tablespoons coarse-grained mustard
1/4 teaspoon Watkins™ Ground Cumin
2 cans Pillsbury™ refrigerated Crescent Dough Sheet
8 oz ground pork
6 slices (3/4 oz each) cooked ham from deli
6 slices (3/4 oz each) Swiss cheese
18 dill pickle chips
Steps
1

Heat oven to 400°F. Spray large cookie sheet with Crisco® Original No-Stick Cooking Spray.

2

In small bowl, mix mustard and cumin. Unroll dough sheets on work surface. Cut each sheet into thirds. Press each third into 7 1/2x4 1/2-inch rectangle. Spread mustard mixture evenly over each rectangle to within 1/2 inch of edges.

3

Shape pork into 6 (3-inch) squares; place over mustard on each rectangle. Top each pork patty with 1 slice ham, 1 slice cheese and 3 pickle chips. Fold dough over filling; press edges firmly with fork to seal. Prick top of each pocket 3 times with fork. Place pockets 2 inches apart on cookie sheet.

4

Bake 15 to 18 minutes or until golden brown and meat thermometer inserted in center of pockets reads 160°F.